Dúnhere
Illus.
Jeff Himmelman
Community Alternate Art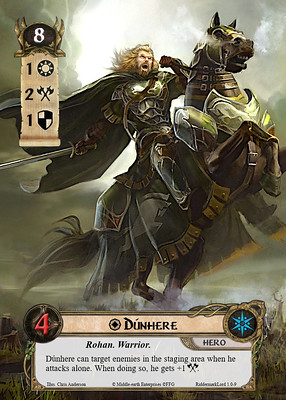 Categories
Attack Bonus
Staging Area Attack
Archetypes
Rohan Staging Attack

View this card on RingsDB
Popularity:
4

Notes
This attack is done during the normal Attack portion of the Combat phase and you must exhaust Dúnhere as usual. In other words, all aspects of the attack are normal except the choice of enemy that can be attacked. Note that this does not cause the enemy to engage the player: the enemy that is attacked remains in the staging area.